Hello Everyone! Sorry for the delay in posting this week. Monday was my annual Halloween Party and I was running around like the proverbial chicken for the last week. For those of you who live too far away to come to my spectacular party I will say this, it is waaaay too much work! I spend about 4 solid days coming up with all Halloween themed food and decorations. Here's a couple samples of my work.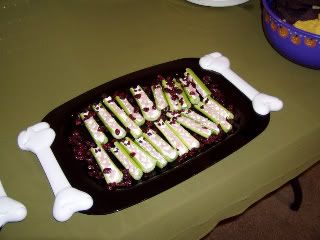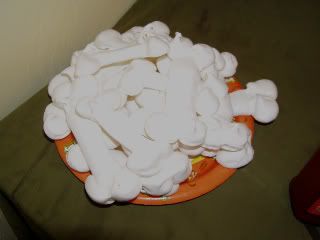 From the top: Celery Mummies, Mummy Toes, Monster Toes, Mini Mummies, Witch's Hats, Bloody ears and Skeleton Bones.
So obviously, since I have no self-control and I was baking all week I gained another 2 lbs this week. :-) This is the one week where it doesn't really bother me because I know I deserved this gain.
Anyway, I started running again last week and I was surprised how easy it was to pick it up again. The date for my 5k is officially set for Nov 15th and I'm training hard. My goal has always been to run the whole thing without any walking. Yesterday I ran my best time yet, I managed to run for about 22 minutes before stopping. I'm at a 12 minute mile right now so I'll need to either run longer or faster. :-) Maybe both.
Hopefully this week will be a bit better than the last 2 and we can start seeing some 100's on the scale again!